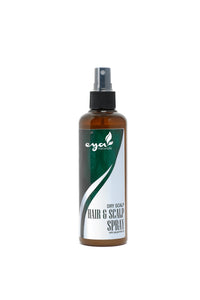 ENB - Dry Scalp Hair & Scalp Spray
Eya Naturals All-in-one ANTI-ITCH Hair and Scalp Spray is for protective styles such as braids, twists, cornrows, weaves, as well as locs or even for loose hair. This is your simple solution to combat dryness and moisturize your hair as well. This version is formulated with an extra dose of dandruff-fighting oils.
The Eya Anti-Itch Hair & Scalp Spray is all you need when you have protective styles. No need for additional oils or products when you use this spray. Can also be used when not in protective styles to moisturize hair.
This spray contains:
Essential oils that prevent your scalp from getting dry and itchy.

Pro-vitamin B5 to moisturize hair and prevent breakage.

Avocado & Castor oils to deeply condition your hair and scalp.
Directions:
Just spray into hair and scalp and enjoy the refreshing tingling sensation. Rub any excess liquid into hair. Use daily or as needed.
---