Posted by Main Admin on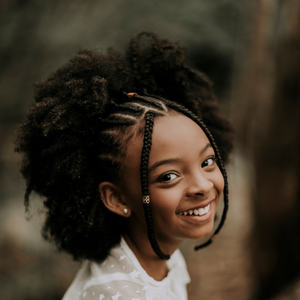 Raise your hand if you used to bond with your mum or dad over hair. Hair care is that powerful. Although parenting doesn't come with a manual, there are a few principles on how to make it worthwhile especially through hair care. Here are a few tips on how to care for your child's hair especially if they have natural hair.  Make it fun We understand there are a thousand and one things you could be doing instead. The tears and snot don't make it easier. To make it fun, sing their favourite lullaby. If they are older, ask them...
Posted by Main Admin on
Parenting doesn't come with a blueprint. If it did, we would all subscribe to it. Who doesn't enjoy the soft life? Fortunately, a few things do come with some guiding principles including how to take care of your kid's natural hair. Are you ready to explore? Jump on. Moisturize! Ahhhh this thing called 'moisturizing' again. One of the best things you can ever do for natural hair is to moisturize. Right from infancy, moisturizing is key to the health and growth of natural hair. For babies, moisturizing at least once a week is fair. For toddlers, you can increase the...
Tags:

African naturals, bad hair practices, Braids, castor oil, chunky twists, coconut oil, coily, coily hair, damaged hair, Deep Condition, deep conditioning, edges, extensions, eya naturals, Eya Salon, eyanista, Flat Twists, good hair practices, grow edges, Hair Growth, hair inspiration, hair length, hair milk, hair mist, hair oils, hair practices, hair treatment, hairstyles, kids, kids detangling, kids hair, kids hairstyles, kids set, light oils, loss of edges, moisturize, natural hair, natural hair care, natural hair journey, natural hair products, natural hair salon