Posts — wash days
Posted by Main Admin on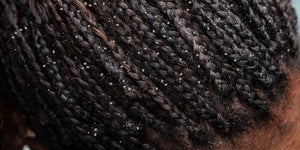 If you've ever had dandruff, then you know how uncomfortable it can get. Those dry, flaky, whitish substance in hair which becomes difficult to hide sometimes. Not only is dandruff uncomfortable but very irritating to say the least. Have you tried to treat it to no avail? Before you give up on finding a remedy, let's try to address a few issues. What is dandruff? Dandruff is a fungal infection caused by the fungus known as Malassezia. This fungus feeds on excess sebum or oils on the scalp. It usually multiples and becomes very itchy.  Causes of dandruff When it comes...
Tags:

African naturals, almond oil, Aloe Vera, apple cider vinegar, bad hair practices, Braids, breakage, breaking, coconut oil, dandruff, detangle, diet, dry hair, dye, dyed hair, dyes, eya naturals, Eya Salon, eyanista, fruits, good hair practices, grow edges, Hair, Hair & Skin Care Blog, hair breakage, hair dye, hair edges, hair inspiration, hair length, hair oils, hair practices, hair products, hair retention, hair thickness, hair treatment, hairstyles, healthy hair, healthy hair growth, heat, heat styling, Heatless, heavy oils, iron-rich, Kinky Hair, light oils, low porosity, Massage, moisturize, natural hair, natural hair oils, natural hair products, natural hair salon, natural oils, oils, oils for hair, peppermint, peppermint oil, peppermint treatment, permed hair, porosity, post partum, post partum hair loss, protective style, protective styles, protective styling, retain length, Salon, Spa, styling, sugar, Uncategorized, use products, vegetables, Vitamin E Oil, wash days
Posted by Main Admin on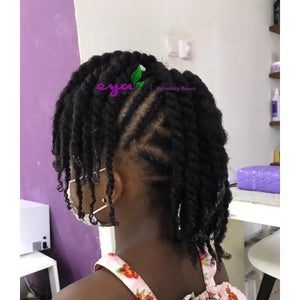 When it comes to our kids, we only want the best for them. Today, we would try to make things a bit easier with some tips on caring for your kid's hair.
Tags:

bad hair practices, chunky twists, damaged hair, deep condition, detangle, detangling, dry hair, edges, eya naturals, eyanista, genes, ghana, good hair practices, Hair, Hair & Skin Care Blog, hair care, hair edges, hair growth, hair inspiration, hair length, hair loss, hair milk, hair products, hair thickness, hair treatment, hairstyles, healthy hair, kids hair, kids hairstyles, long hair, moisturize, natural hair, natural hair care, natural hair journey, natural hair oils, natural hair products, natural oils, naturalista, oils, protective style, retain length, Salon, Stretch hair, traction alopecia, Type A, Type B, use products, wash days